Sathyaraj or as most millennials and movie buffs refer to him, Kattappa from
Baahubali
has an astonishing story of achieving his dreams in the film industry. Believe it or not, he never wanted to be an actor, he was just content with working for films. But as destiny would have it, the acting talent was noticed and Sathyaraj's hard work and luck paid off in equal measure. He made a mark in Tamil films playing a villain's henchman, slowly graduating to the main antagonist and then even making an impact as the leading man. Despite having worked in more than 200 films, his enthusiasm and energy can rival 20-year-olds and give the young stars a run for their money.
In this week's Big Interview with ETimes Sathyaraj reveals how he ran away from his hometown to chase his dreams, his love for the icon MGR, his experience of working with SS Rajamouli and finally he also admits to being a fan of Shah Rukh Khan. Excerpts from the chat…

You have spent more than four decades acting in front of the camera. Were you always inclined towards a career in acting?


No, not at all. I did my B.Sc in Botany that too in several attempts (smiles), so I didn't get any job. Basically, I am from an agricultural family and after I completed my studies, our family had to sell our land due to some issue. I was completely blank at the time and I didn't know what to do next. Like any other youngster, I too loved cinema. So I moved from my hometown to Chennai to do something, do anything with cinema. I wasn't focussed on acting (laughs), but I liked acting. I used to mimic some of the actors of my time, like the great MGR sir and Sivaji Ganesan sir. That's how I got into movies.
Tell us something about your first acting assignment.
My first acting assignment was in a film with Kamal Haasan in 1978. The first day of Enakkul Oruvan was on July 14. Kamal sir played a dual role. That film was a very big hit.
Having played the antagonist, leading man and character actor in over 200 films, how do you sum up your acting journey thus far?


Actually, I never seriously planned for my career and I think that was my plus point. That was also my minus point, by the way (laughs). If you are not serious in life, you can enjoy your life to the fullest but your success will not be upto the mark. When I entered the film industry, I did very small roles at the beginning. From 1978 to 1983, my dialogues were limited to 'Yes boss!' and 'Ok boss!' (laughs). Then after 1983 I got a big break with 'Nooravathu Naal' which was remade in Hindi as 100 Days. It was a super duper hit and the villain, which was played by me, was appreciated and celebrated more than the hero. That film was my proverbial claim to fame and the streak continued for the next 27 years. I only played villains. I became the trend setter of Tamil cinema because of my sarcasm and the way of delivering dialogue. Then after a few years, I think there was a scarcity of heros and the industry decided to turn me into a hero. I never tried for a career where I would be a hero, but the industry gifted me one. It was a seamless journey and I ended up doing nearly 100 films as a hero. Few years later, a few new young actors stepped into the film industry and then I carried on my career as a character actor, till now.
You make it sound like it just happened. Surely, there must have been a desire to do things differently?


I have always played a variety of characters. If you see my film career, I have done Boman Irani's character from '3 Idiots' and Amitabh Bachchan's 'Agneepath' character in Tamil. So one can see a range in the characters that I have played so far.
Cementing a position in the film industry must have been a task for a newcomer like you who had no Godfather…
Sivakumar, the father of actors Suriya and Karthi helped me a lot. It was because of him that I was able to step into the film industry. Another Sivakumar was also instrumental in helping my career. He is a producer and my cousin, and this Sivakumar also helped me get into films and acting. Both Sivakumars helped me a lot.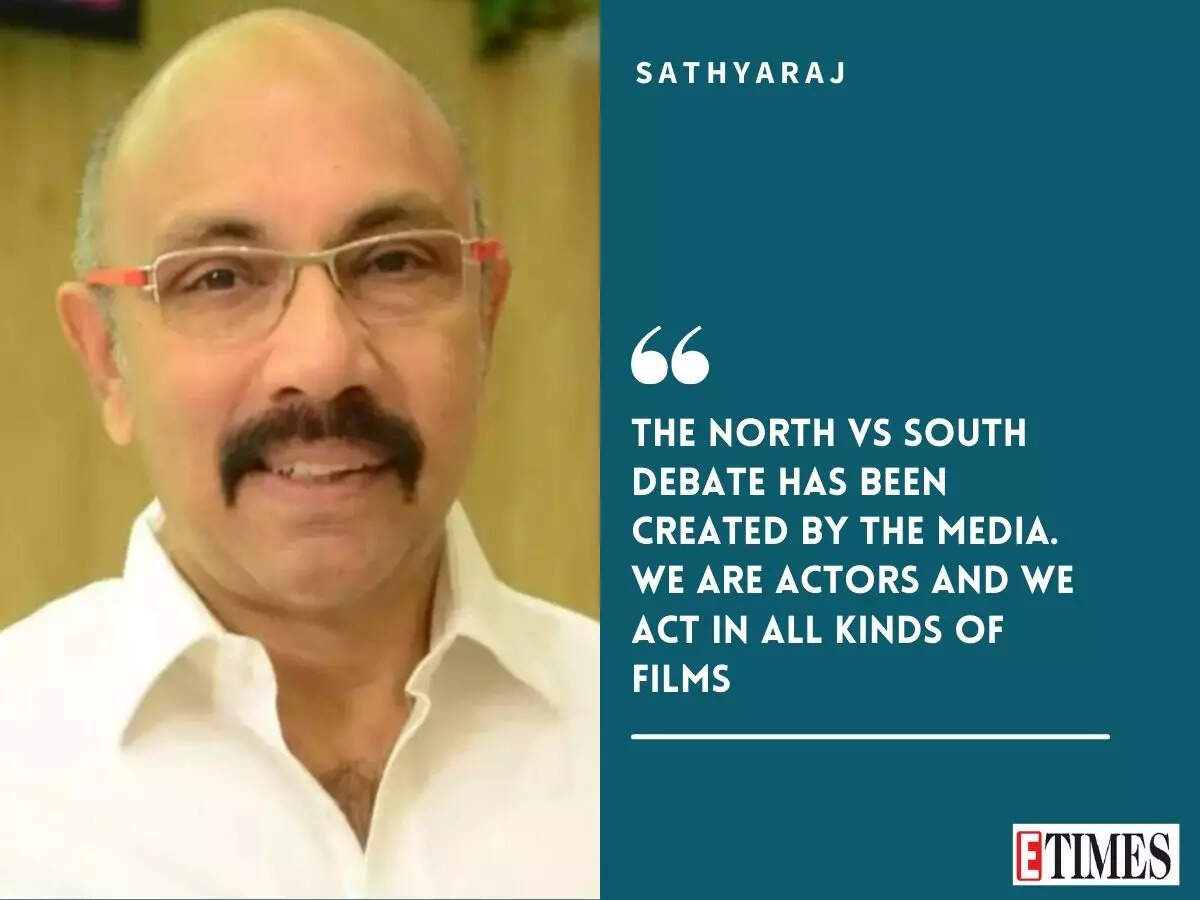 MGR and Rajesh Khanna are your favourite actors. What made them so special?


I am an ardent fan of MGR and I like so many other actors as well. During my college days Rajesh Khanna was very popular for his films like 'Saccha Jhoota', 'Mere Jeevan Saathi', 'Haathi Mere Saathi' and 'Kati Patang'. Our entire college was full of Rajesh Khanna's fans. He had a huge fanbase in Tamil Nadu, too. I have learned so many things from MGR, in fact he was very good at stick and sword fights. It was because of MGR that I learned stick and sword fighting, 40 years ago. I trained hard at the art of fighting with both my hands and that training helped me in doing justice to my role in 'Baahubali'. I remember our stunt master had brought a person from Vietnam, who was a master in sword fighting but to everyone's surprise, I already knew everything that he was teaching (laughs).
Two years before 'Baahubali' turned you into a household name, you had already done 'Chennai Express'. But it was only after 'Baahubali' that you gained an unmatched popularity across the world. It was then that people took note of your role in 'Chennai Express'.
When the makers approached me for 'Chennai Express', I heard the story and I felt that it was not that great a role for me. I conveyed this to the director (Rohit Shetty) and also to Shah Rukh Khan, but I eventually did the film, because I like Shah Rukh very much. I like SRK's acting a lot. His films, like 'DDLJ' and several others, did extremely well.
How has your life changed after the success of 'Baahubali'? Your character Kattapa has become a cult figure.


The fame never got to my head. I truly believe that we are just part of a profession, like everyone. Just like a driver is a driver, an actor is an actor. That's all! There's nothing more than that. We are popular because our profession projects us onto people's screens. I don't think we are great people. You work for the press and I work for cinema (smiles).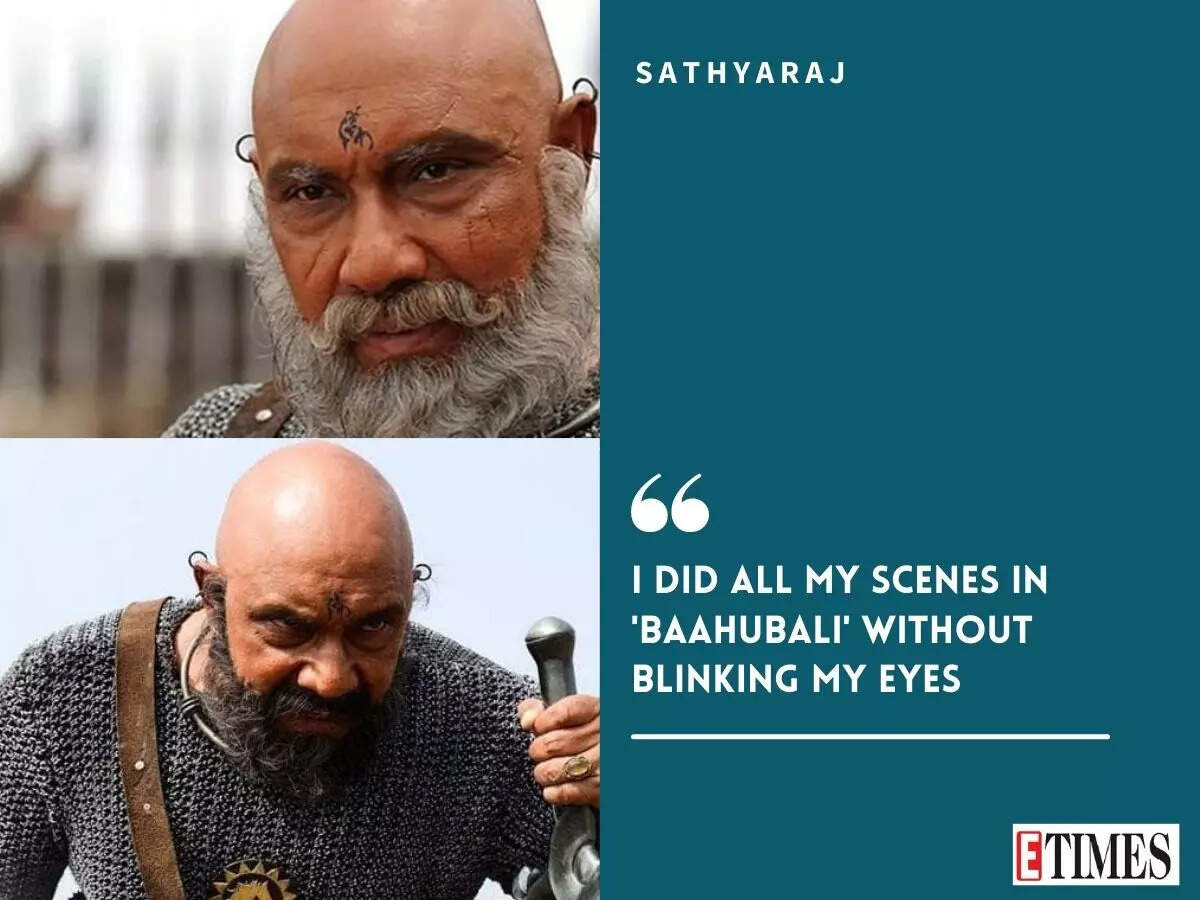 When fans of 'Baahubali' throng to appreciate you; how do you deal with the crazy levels of popularity?


I think this was the reason why I ran away from my hometown and settled in Chennai (laughs). Now that I have got the popularity, I will never get tired of all the attention. Actors should never consider popularity and fans' attention as a burden. This is why actors came to the field of films. Actors should never insult fans because they are the ones who give us our roti, kapda aur makaan.
Now for the million dollar question, 'Kattapa ne Baahubali ko kyun maara?' Did your family members ever ask you this question? Did you reveal the secret to them?


(Laughs) I refused to divulge the truth to my family, too. It was that risky! Everytime someone asked me this question, whether at the airport or at any other public place, I always answered, 'the producer gave me money not to reveal this answer. I killed Baahubali because SS Rajamouli garu asked me to kill him'. In fact, the producer gave me really good money and that's why I stabbed Baahubali.
How do you describe your experience of working with Prabhas and SS Rajamouli?
Working with SS Rajamouli is very easy. He has a very clear vision about his actors and if the director has a very clear vision about acting, expressions and reach, it becomes very easy for an actor to deliver and work with him. Prabhas is a darling and a very humble person. People may think that on the sets of 'Baahubali', we all must have been very serious during acting, but that's not true. We were always in fun mode. We were cracking jokes. Ramya Krishnan and Nassir and I are all from the same period, we were 80s youngsters so we all gelled very well. Shooting for 'Baahubali' always felt like a picnic.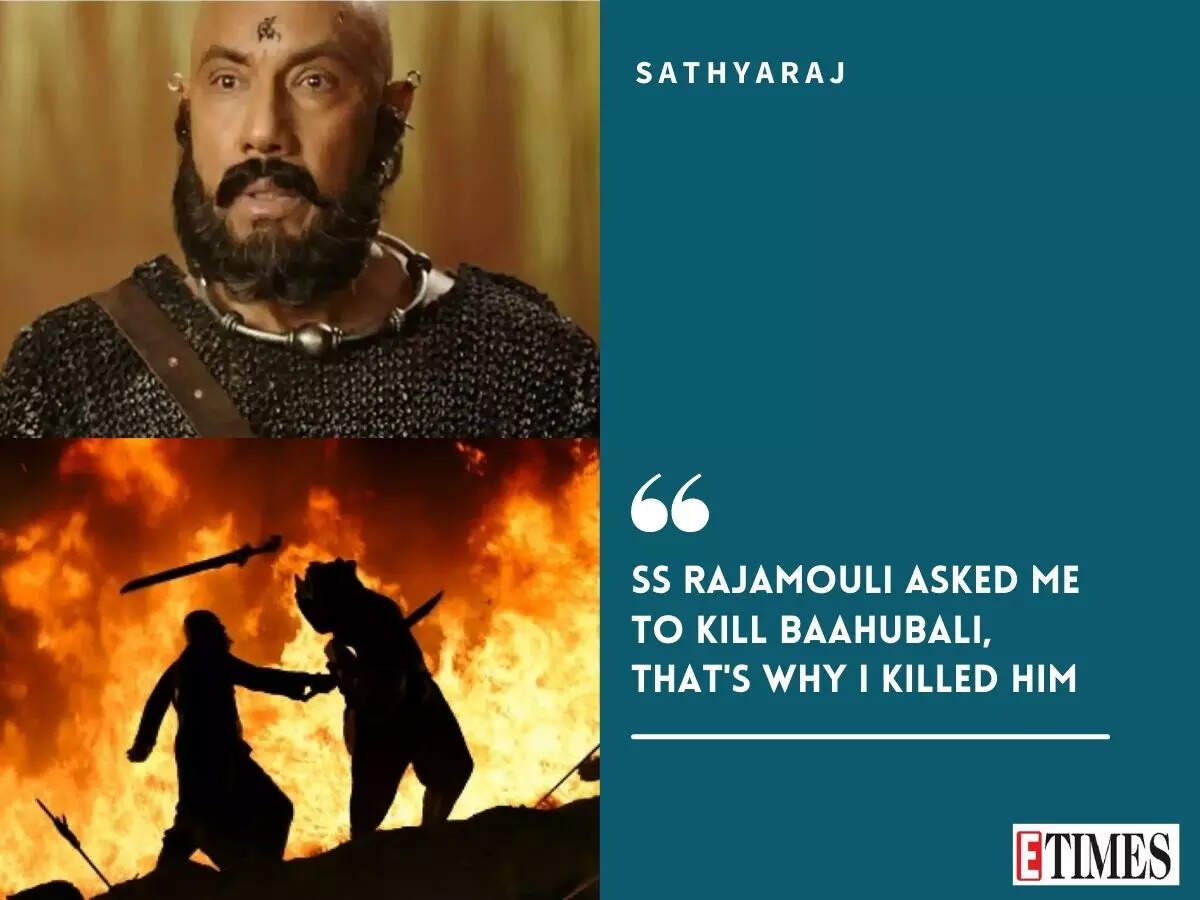 What did you learn from working on Baahubali?
It was a rare experience. I remember, the very first shot that I did for 'Baahubali', everybody clapped but SS Rajamouli asked me to do the same scene without blinking my eyes. I agreed because I believed it would be a new and enriching experience for me as an actor. I did the scene without blinking my eyes and later when I saw it on the monitor, it really brought out a different emotion to the character, it looked very intense. I didn't know Telugu, so it was difficult for me to emote as well. I was just relying on the prompting.

Does language matter to an actor?
For me it's never been an issue. If someone can prompt me, I can act in Russian and Chinese movies, too (laughs). There is a technical trick for acting. If an actor can be clear with a few crucial sounds and vowels, he/she will be able to pronounce all languages without much effort.
How do you rate yourself as a father?
I am very cool and I am not at all concerned about culture, traditions and rules. I am an open and rational thinker. I don't believe much in God, caste, religion etc. So I don't compel my kids to do what I want. They are free to do what they want.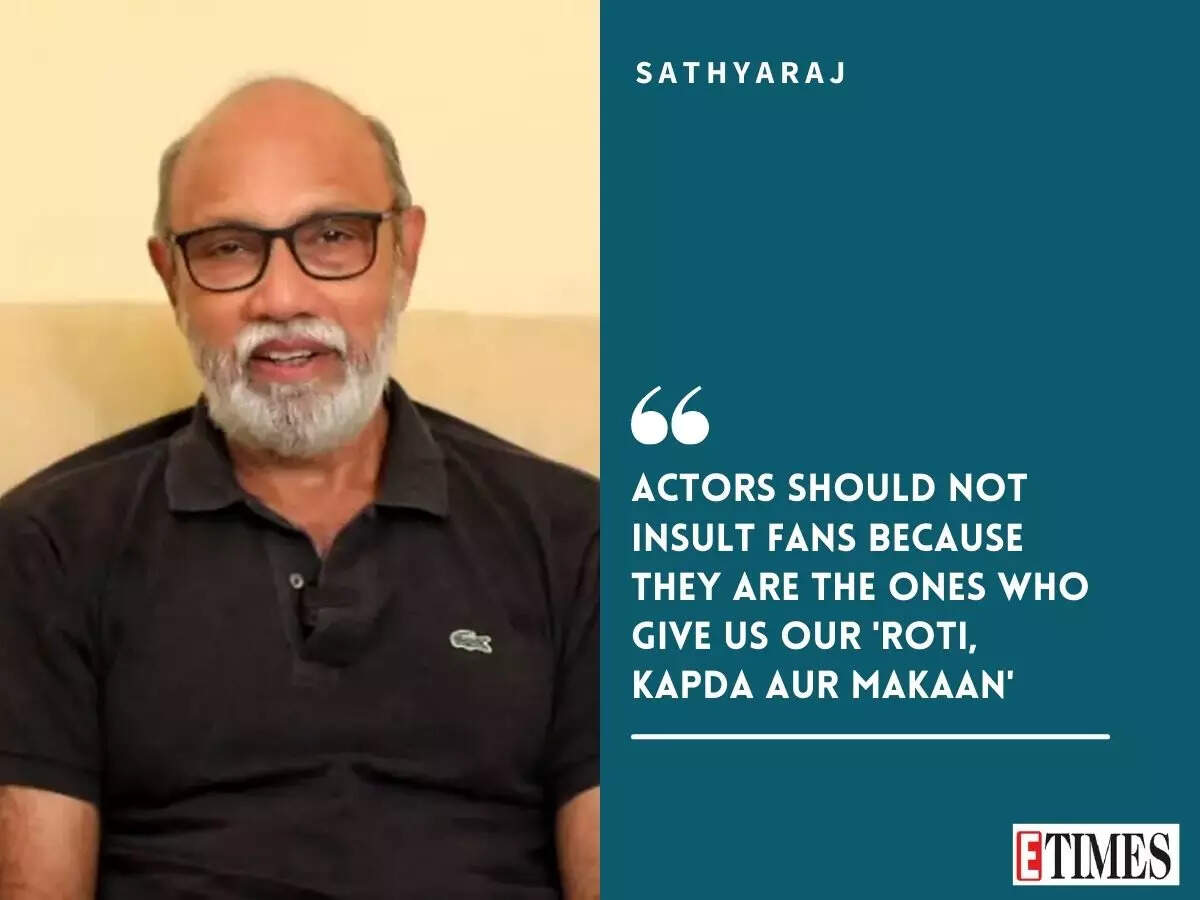 What's your view on the constant comparisons between North and South films? That's become a trend of sorts.


That's all created by the media. We are actors and we act in films. People watch movies and enjoy them, it is only the media which wants to divide South and North films. As a fan, I always liked watching Amitabh Bachchan's movies, Dharmendra, Dev Anand and Shatrughan Sinha films. The emergence of South cinema's popularity also stems from the lockdown. It was during that period that people didn't know what to do sitting at home. So they started watching movies of different languages. I watched a Punjabi and Gujarati movie, while being at home. This is good for regional cinema because only when regional films do well people will get to know stories of the soil. Otherwise, films will continue to tell general stories. Only when regional cinema succeeds is when real stories of our country will come to the fore.
Read More